Estimated Duration Of Reading : 2 ' 33 '' Publish Time : 2019-01-20 12:30:00
Editor : Said Murat
Category : Technology
The Korean company is betting on MicroLED technology with presenting the 219-inch TV. Samsung makes its show at CES 2019.
TV sets offer better image quality every year. But not only in this aspect, there are large, practical and anticipated changes. The new displays are lighter, thinner and despite their increasing size, you can hide them when you do not need them. For example, LG has presented the world's first folding TV. We can talk about it later. Now, our focus goes on the largest MicroLED TV you could have.
219-inch TV called Window belongs to THE WALL series by Samsung. Unfortunately, for now, Koreans do not predict its sale in stores. It is a prototype and at the same time a demonstrator of technology. However, it shows that in the future we all are going to have cinema systems at our living rooms. Because Samsung showed that it can easily create much bigger than usual displays, which surprise with the quality of images and in no way differ in this respect from the top models of the manufacturer available in stores.

Samsung unveils Samsung Pocket book 9 Professional and Samsung Pocket book Flash at CES 2019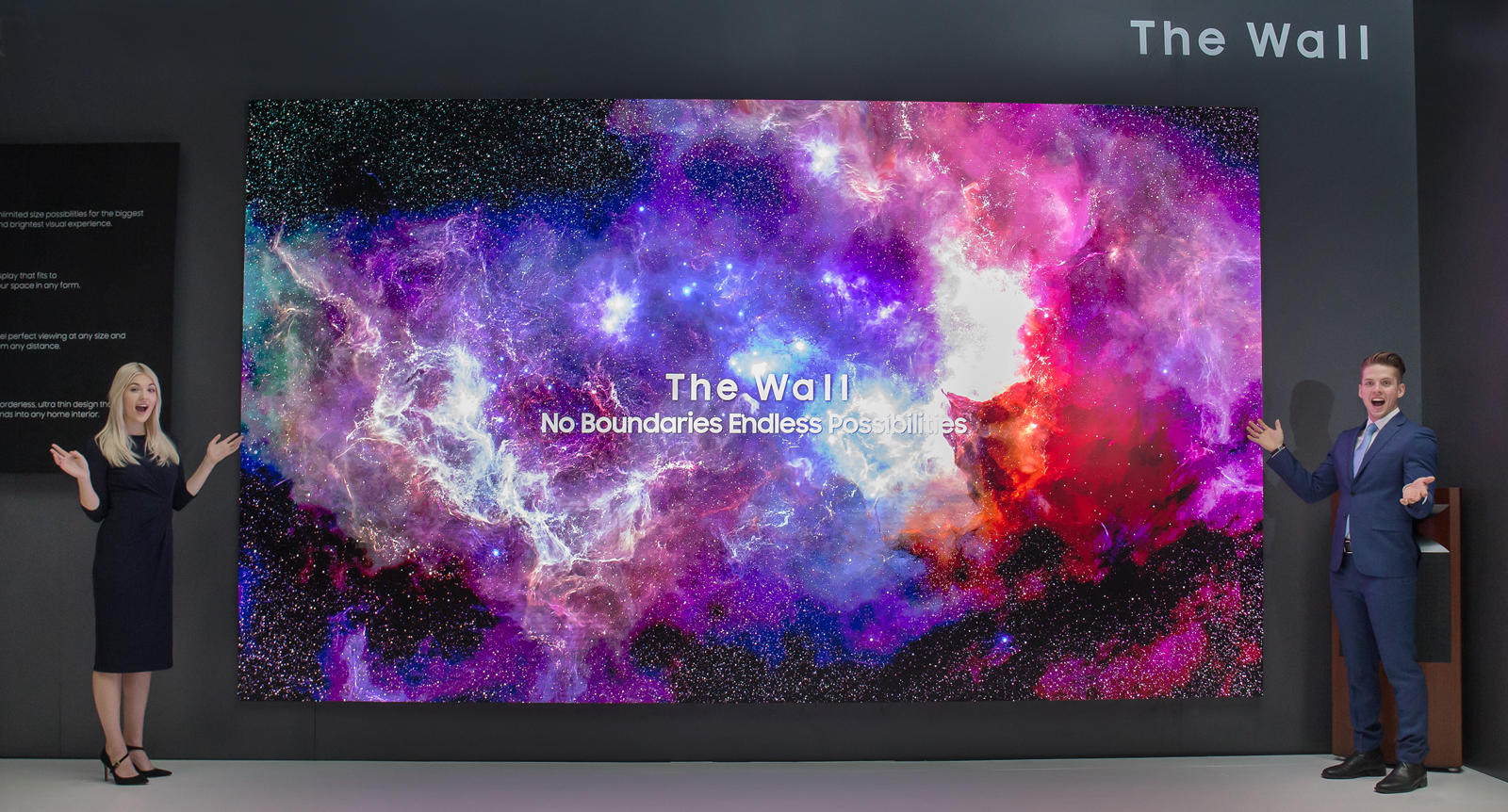 Don't worry. The company also presented a slightly smaller 4K TV. Like Window, it is also made in MicroLED technology, but has a 75-inch display. This model may be available for sale later this year. For now, we do not know its price, but we can expect it will not be cheap. Well, you have to pay dearly for quality.
Let us remind you that the world's largest LED TV was presented 2 years ago by C SEED, which is known throughout the world for its exclusive electronics for the most demanding. The TV with a 262-inch display offers 4K resolution, 5,000: 1 contrast, LED backlight and 800 nits brightness.
Samsung's new MicroLED TV uses millions of very tiny LEDs to create an image, which is supposed to lead to great picture quality and less of a chance of burn-in, permanent damage that affects organic light-emitting diode screens.
In the near past, they were working on the size of the television to produce thinner ones. Still they do it, yes. However, producers plan to get the tvs with the best resolution on. 4K TVs become very popular with the compatible broadcasts, serials, movies and channels. Now, we are going to see 8K TVs with incredibly display resolutions. You may seen them already at CES 2019 in Las Vegas. Very soon (quicker than 4K TVs), 8K TVs will become much more popular. Because TV broadcasters have started to work on it long time ago, to get ready for the future's tvs.
Korean company Samsung presented the first of its The Wall TVs in 2018. The 146-inch modular display was part of its CES presentation that year. And now, this year, we see the largest MicroLED TV with 219-inch screen. We will see together what happen next.