Estimated Duration Of Reading : 3 ' 10 '' Publish Time : 2019-04-16 08:10:00
Editor : Taha Büyüktaş
The numbers read impressively on their own: 50,000 in attendance, 1500 CMOs, 5000 brands, 400 exhibitors and 300 speakers. Dig a little deeper, however, and the raw numbers are truly remarkable. We're talking about an event that launched eight years ago to little fanfare; a one-day conference that drew 200 people held in a standard issue lecture hall at a Hamburg university; a get together that was so far removed from the major industry events like dmexco and Web Summit, that the comparison would have been laughable.
We're talking about the OMR Festival, held every year in Hamburg, Germany.
The event is now a two-day affair—part trade fair (called the Expo), part keynote conference—amplified and jacked up to 1000. For every one of the industry exhibitors, like Adobe, Google, Facebook and the like, you have a travelling orchestra serenading the audience as it winds its way through the Expo halls; for every one of the 400 speakers on the Expo or Conference stages, you have a slew of Masterclass seminars, Guided Tours and Side Events—think bookable events for brands who want to get some valuable sit-down time with a handpicked audience. There is a lot to process: energy, inspiration, attitude, insights and content on every corner.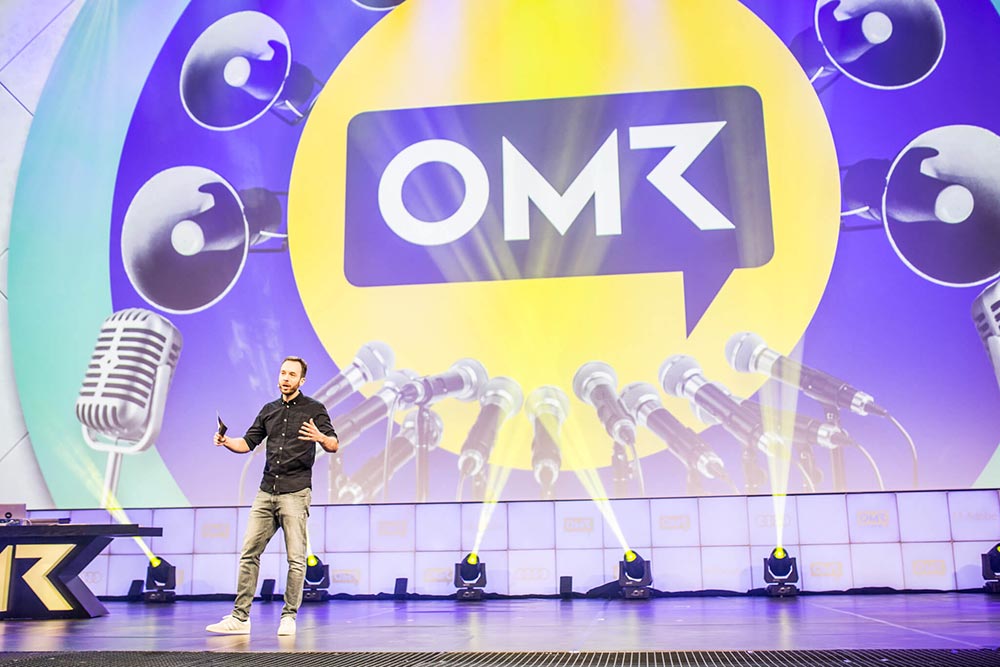 Here are a few of the biggest tech-focused exhibitors coming to Hamburg this year:
ADROLL
AdRoll is a leading performance marketing platform with over 35,000 clients worldwide. Its suite of high-performance tools works across devices, helping businesses attract, convert, and grow their customer base. The company is home to the world's largest opt-in advertiser data co-op, the IntentMap™ with over 1.2 billion digital profiles. AdRoll's goal is to build the most powerful marketing platform through performance, usability, and openness. AdRoll is headquartered in San Francisco, with offices in New York, Chicago, Tokyo, London, Dublin, and Sydney.
Emarsys
Emarsys is the largest independent marketing platform company in the world. Our software enables truly personalized, one-to-one interactions between marketers and customers across all channels — building loyalty, enriching the customer journey, and increasing revenue. Our AI-enabled marketing platform offers an intuitive, easy-to-use solution for marketers, enabling companies to scale marketing decisions and actions far beyond human capabilities.
Oracle
Oracle Marketing Cloud's data-driven solutions to create engagement, orchestrate experiences, connect data, and optimize online interactions that attract and retain ideal customers. These Modern Marketing solutions connect cross-channel, content, and social marketing with data management and activation along with hundreds of pre-integrated app and data partners.
At OMR19, there will be ample space for inspiration and exchange as the eighth OMR Festival spreads to 6 Halls, meaning more speakers (400), more exhibitors (400), Masterclasses (150) and more space than ever before. Headliners include the hottest name on the US marketing scene, Bozoma Saint John, CMO at talent agency Endeavor and Co-founder of mindfulness app Headspace Andy Puddicombe.
Make sure to come to OMR19 this year. We can offer you an exclusive 20% discount code on your Expo Tickets (OMR19 - 20% Discount Expo) and All Inclusive Tickets (OMR19 - 20% Discount All Inclusive).