Estimated Duration Of Reading : 2 ' 55 '' Publish Time : 2019-01-11 18:00:00
Editor : Said Murat
Category : Technology
The world's eyes are on CES 2019 and very fantastic devices are coming up there to news channels for curious technology enthusiasts. The first folding smartphone with flexible screen blinks its eyes to you.
A Californian company Royole has presented a real foldable smartphone with a flexible screen at CES 2019. Of course, we're talking about a producer that is not as recognizable as Samsung, LG or Huawei, so it will be harder for him to compete and convince clients who trust in big players. However, it's a great step and we will see together what happens next.

Samsung unveils Samsung Pocket book 9 Professional and Samsung Pocket book Flash at CES 2019
Royole has appeared at the CES 2019 Las Vegas currently underway with its FlexPai. Journalists and fans of the latest technology had chance to take the device in their own hands and personally check the practicality of such innovations, which will dominate the smartphones market in 2019. We will remind you that all of the largest companies have presented or intend to do it. Definitely having a folding smartphone is a great point to be focused on by everyone at CES 2019.
What should we know about Flexpai?
FlexPai is equipped with the latest premium chip from Qualcomm, i.e. Snapdragon 8150 (it is the first smartphone on the market with this system), 6 or 8 GB of RAM, 128, 256 or 512 GB of internal memory with the possibility of expanding with microSD cards, a battery with a capacity 3800mAh with the option of super-fast charging Ro-Charge, USB type C port and operating system Android 9 Pie with the Water OS overlay. Additionally, it's not only a smartphone, but also a tablet.
Big & Flexible Screen!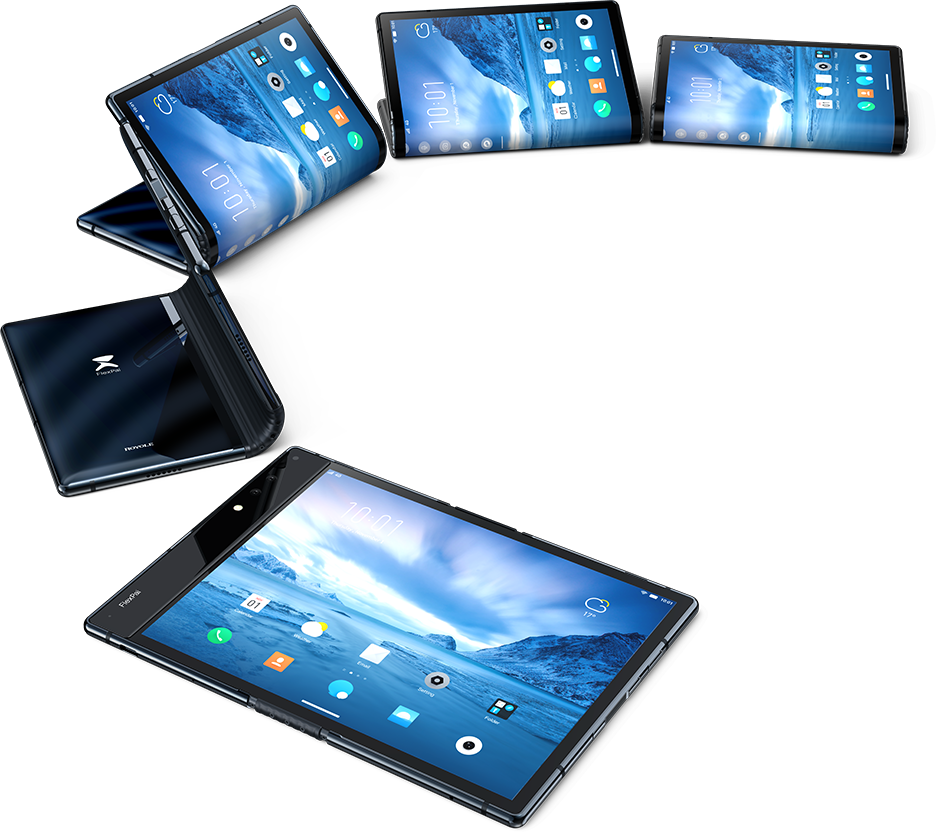 As for the panel itself, it is a 7.8-inch AMOLED with a resolution of 1920x1440 pixels, which we can fold to a size of 4 inches, and the manufacturer Royole ensures that the hinge used will allow over 200,000 assemblies of equipment. In a distributed form, we have a tablet with a thickness of 7.6 mm, and in the other a small smartphone, which unfortunately is not completely flat, because it does not allow the mechanism used and we have to reconcile with a thickness of over 15 mm. You can not hide that it does not look very stylish, but you still need to appreciate the efforts of the producer.
After folding, we can choose the half we want to use, and the user interface overlay will switch to it, and the second one will display the wallpaper. Sounds interesting, we know. One of them offers a slightly larger screen, which will be more convenient, among others for browsing the internet, and the other a double 16 MP + 20 MP camera, thanks to which we will take a selfie or make a video call.
And how, do you like this solution, even considering its fairly high price?

The weakest variant of 6 GB of RAM (for the 128GB model) version will cost around $1,300, and for the most powerful one you have to pay around $1,500 with the expanded 250 GB storage model.
Shortly, it's just the first smartphone with flexible screen. We will see what will happen next. Just it's obvious that technology and smartphones' world will go further non-stop to impress us with such a fantastic news. For now though, congratulations to the California-based company Royole for becoming the unlikely trendsetter.