Estimated Duration Of Reading : 1 ' 54 '' Publish Time : 2020-07-30 19:01:12
Editor : Said Murat
Category : Technology
According to a new report from research and analysis company Canalys, Huawei has sold more than a quarter of smartphones worldwide for the first time. 
Huawei has long been passionate about passing Samsung as the world's largest smartphone seller, and that's exactly what happened in April-June this year, according to Canalys' numbers.

Huawei steals the 2# place from Apple for smartphone market
Since the pandemic crisis continues, it is not certain that these figures will always go like this. So this analysis does not mean that Huawei will always be at the top. According to Canalys' report, the price of 55.8 million Huawei smartphones dropped 5% year-on-year, while Samsung fell 30% to 53.7 million. More than 70 percent of Huawei's devices are currently sold in China, which means that its job is easier than Samsung. Samsung is a small player in China. In other countries where it sells, the COVID-19 crisis is still continuing.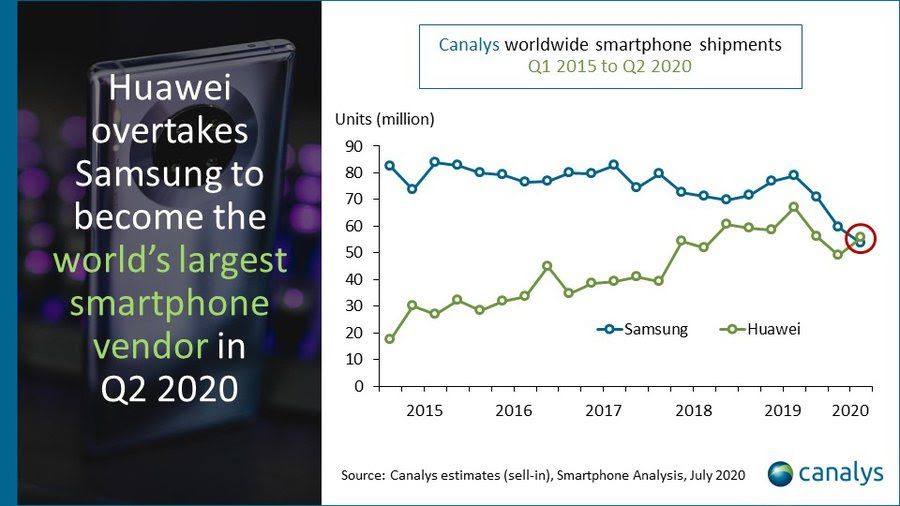 In a statement from Huawei, the same was said: "Our business has shown extraordinary resistance during these difficult times. In an era of unprecedented global economic recession and challenges, we continued to grow and maintain our leadership position by providing innovative products and experience to consumers. "
"This is a remarkable result that few people predicted a year ago," said Canalys senior analyst Ben Stanton. "Without COVID-19, it wouldn't be. Huawei took full advantage of China's economic recovery to manage the smartphone business." So they worked so well in the crisis that they won the world first place, even for now. What they need to do next is to maintain their positions. But everybody knows that Samsung is not a manufacturer to be underestimated. 
Despite the impressive hardware, Huawei phones are now hard to sell to most consumers outside of China, as they are prevented from using Google services. It is hard to see that the company remained at No. 1 when the global smartphone demand improved; Samsung says it expects better sales in the next quarter due to new flagship phone launches. However, Huawei's ongoing power in China shows that external pressures are not yet an existential threat to consumer affairs. We'll all wait and see this beautiful sweet quarrel.



Huawei steals the 2# place from Apple for smartphone market

Huawei steals the 2# place from Apple for smartphone market

Huawei Watch GT 2: an elegant smartwatch for athletes.