Estimated Duration Of Reading : 3 ' 54 '' Publish Time : 2019-03-01 13:45:00
Editor : Said Murat
Category : Technology
It is impossible to hide that during the Mobile World Congress 2019 most of us expected to see innovations in the form of folded smartphones, and that LG does not have such a portfolio, it had to get out of the situation differently.
And it did this thanks to the LG V50 ThinQ 5G model, which is its first smartphone with support for 5G network. The manufacturer promises here the reliability and transmission of multimedia at speeds up to 20 times higher than data transmission in 4G networks, although as we know it is only half of the success, because it is necessary infrastructure, which in most places in the world is not yet.

Samsung Galaxy Fold with 7.3-inch foldable screen launched
Anyway, the new LG model is a top-shelf smartphone, so we can count on the FullVision QHD + 19.5: 9 OLED screen and 6.4-inch diagonal, which features AI Display, preventing eye fatigue by automatically adjusting the color saturation and screen brightness to the ambient conditions. What's more, the manufacturer decided on an interesting solution, which is to be a response to competing smartphones competition and equipped LG V50 ThinQ 5G with an additional screen being optional equipment.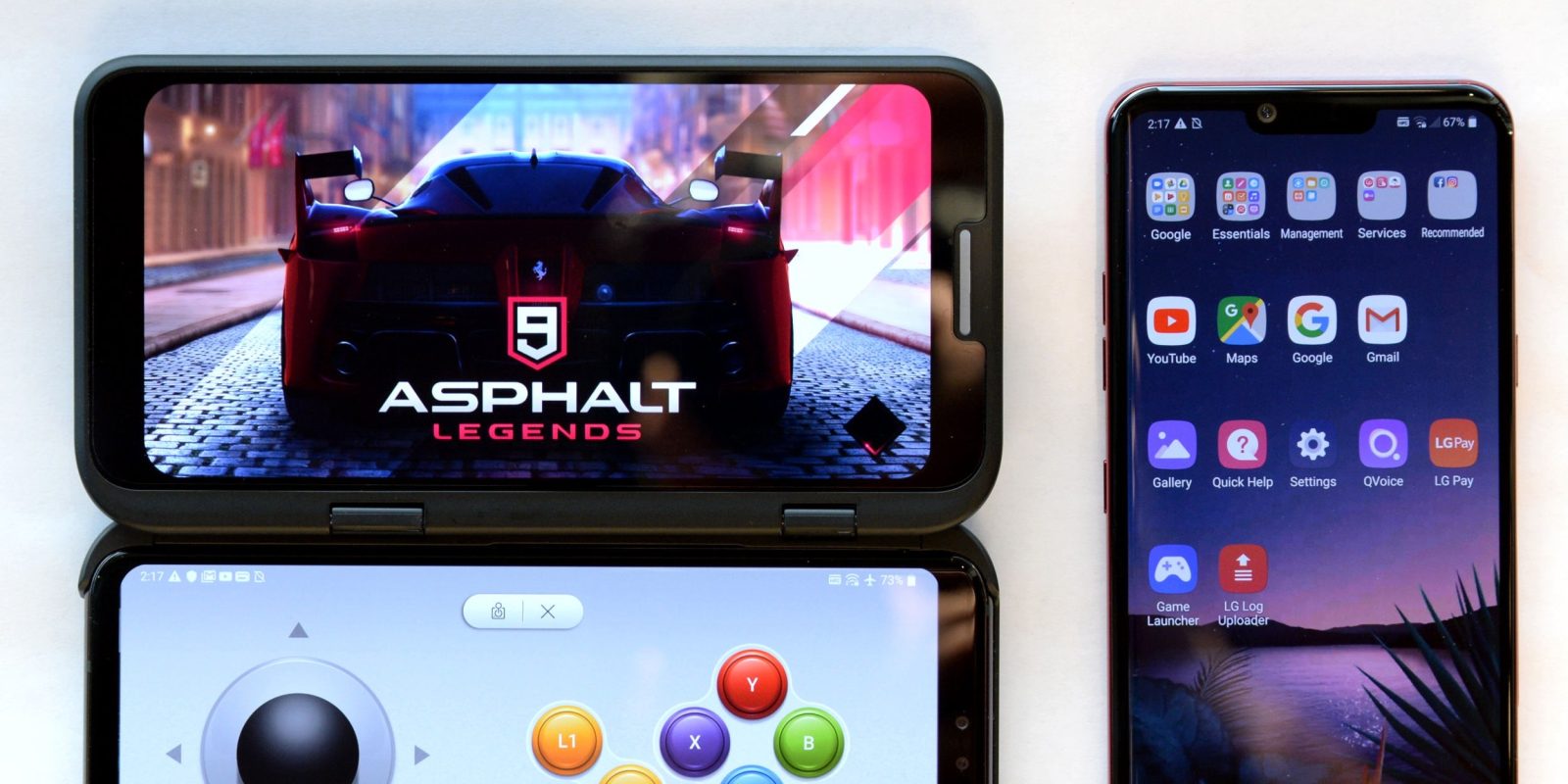 The additional screen module also has the function of a case and allows you to use the second 6.2-inch OLED display, which facilitates multimedia viewing and multitasking, as well as provides greater game satisfaction. The additional screen and smartphone display LG V50 ThinQ 5G can be used independently, which translates into many interesting possibilities. In addition, when the module with an additional screen is connected, a special icon appears on the display of the LG V50 ThinQ 5G to switch on the second display and conveniently switch between the two screens.
In addition, using the function of operating several eyes, you can divide each screen into two parts, so that you can use four different applications at the same time. In selected games, the additional screen can act as a dedicated controller, thanks to which the user's thumbs do not override actions on the screen. An additional screen, which can be set at 104 or 180 degrees, is powered by a smartphone battery, so it does not require separate charging.
In the middle of the new Qualcomm processor, or Snapdragon 855 Mobile Platform with the Snapdragon X50 modem and a specially optimized by LG software that allows you to obtain high computing power. All supported by up to 6 GB of RAM, 128 GB of internal memory with the possibility of expanding to 2 TB with microSD cards and a capacious 4000 mAh battery (with fast Qualcomm Quick Charge 3.0 charging), 20% more than in the V40 ThinQ model and the new system cooling with a steam chamber that lowers the indoor temperature even during multitasking.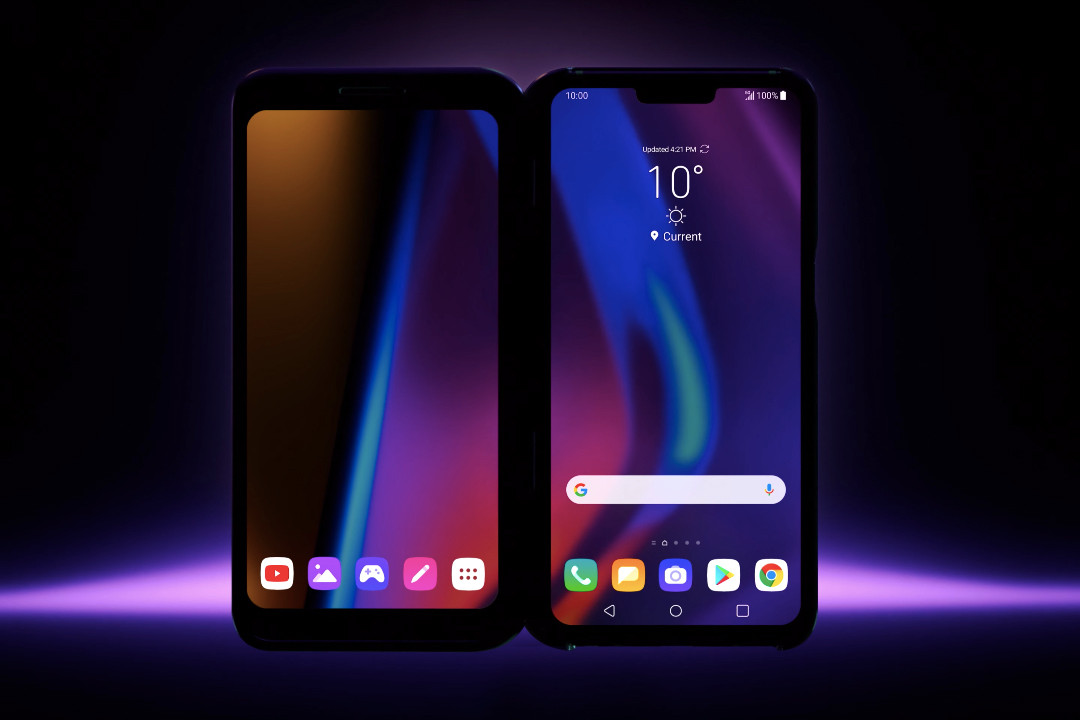 LG also focused on high sound quality, which should satisfy fans of mobile music and watching movies. Thanks to DTS: X technology, you can achieve realistic surround sound effects, and to get the lowest possible delay in audio signal transmission, the smartphone supports the Qualcomm aptX and aptX HD codec, which will be especially appreciated by wireless headset users.
When it comes to photographic possibilities, at the back we have 16 MP sensor with wide angle lens (F1,9 / 1,0 μm / 107˚), 12 MP with standard lens (f / 1,5 / 1,4 μm / 78˚) and 12 MP with a telephoto lens (f / 2.4 / 1.0 μm / 47˚), and on the front there is a double camera 8 MP with a standard lens (f / 1.9 / 1.12 μm / 80 °) and 5 MP with wide-angle lens (f / 2.4 / 1.0 μm / 90 °). LG cameras will also work great during video recording, because the front and rear camera support the control function Depth Video Depth Control, which guarantees the sharpness of moving objects, and thanks to Dual FOV, analyzing distance and depth, the recorded image is fully compatible with seen by the user.
For this smart device, we also have the Android 9.0 Pie operating system and the typical V-series design that you may like. The new model also has a completely smooth profile, because the lens of the rear camera is completely aligned with the smartphone housing. However, the attractive appearance was not reduced by the durability of the device - the LG V50 ThinQ 5G again meets the requirements of US military standards MIL-STD 810G.
Unfortunately, we still have not got the release date or the price of the device, so we have to be patient. We will see how it will be, and then share it with you all!



LG G7 ThinQ all set to receive stable Android 9.0 Pie update

The world's first folding smartphone: Royole FlexPai

Xiaomi's folding phone is the best we've seen so far